La Dee Da is a series of dolls created by Canadian toy manufacturer Spin Master. Creators of many boy and girl oriented toys such as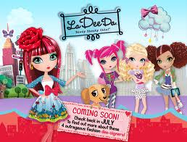 Moshi Monsters, the Design-A- Series, Zoobles and much much more!
La Dee Da is a currently new doll series and as such, is just becoming known to the toys and doll world/industry.
For more information, please visit pages apropriately listed under each of the headings.
Characters
Edit
As of now, only 5 known characters have been revealed. Four girls and 1 pet, a small dog that belongs to the main character:
Dee: A new york girl whose recently turned 16! The amazing, crazy designs were named after her when her friends decided to make them up for her birthday party. She has a small pet dog who is also a member of the group.
Tylie: A colorful girl who loves to go for the more unusual type of designs but she is most recognizable for her unique hair coloring she's always sporting!
Cyanne: The perky girly-girl who is more into makeup and hairstyling then costumes and dressing up.
Sloane: The smartest of the bunch, Sloane is both talented when it comes to school work and acessorizing!
Le Bun: Le Bun is a small tan colored dog that belongs to Dee. He's such a fashion hound!
For an entire list of mentioned, un-named, or shown characters, visit: Characters
Series Premise
Edit
After three friends decide to make their best friends sweet 16 super special they decide that everyone should make their own fashions for it, including Dee. They set it all up with a little help from Le Bun and encouraged by how creative, colorful, and unique they all look the four girls work on making their own brand: La Dee Da!
Each girl focuses on unique aspects of costumes for everyone else and with some inspiration, whether it be sights, common items, traveling, or food, they manage to create one of a kind, eye-catching designs.
Merchandising
Edit
Being a series of Dolls, of course the merchandise is to appeal to any girl ages 5 and up! The series has released so far 2 waves of dolls, but if the website is implying anything, 2 more are soon to follow!
Also released have been fashion packs, small figures of Le Bun, Bigger Le Bun toys, and even a series of Ebooks which can be seen online, or downloaded using an Iphone App.
For more information, please visit: Merchandise
A few La Dee Da from the Runway Vacay series can be seen in an episode of Modern Family.