Well I thought topics related to the polls would be a little bit fun. So tell me, if you were in the Juicy Crush line,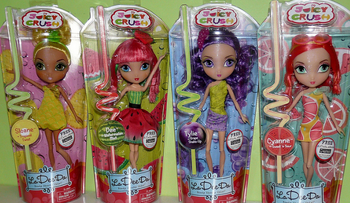 describe... well you know, everything XD
I've made a small guide of things to answer, just be honest, speak your mind, comment on other replies, unleash that creative flow!
also, I realized now that I forgot Raspberry...
If anyone responds, I plan to draw your ideas so make sure your descriptive :3
Things To Answere
Fruit
Drink Color
Straw color
(optional) Name
Hair style and color
Eye and skin coloring
(optional) Make up
Outfit design
Other (any other facts you wanna add basically)
My Answers
Fruit: Strawberry
Drink Color: A pale shade of pink, or deep red
Straw: Pink or green
Name: Strawberry Smiles, Strawberry Sweety, I could think up a whoooole bunch...
Hair Style and Color: My normal hairstyle but bright pink with streaks of either white, or my normal hair color through it.
Eyes and Skin: Gray eyes and pale skin
Make Up: I don't really like make up so it wouldn't be too bright or flashy. Maybe just light lipstick with some pretty sparkly strawberries around the eye.
Outfit: Well there's a cute gothic strawberry outfit I really like in a game I have, so it'd be a modified version of this basically. Plus bright green, bushy styled hairclips, strawberry earings, red boots or sandals, cute stockings. 
My Friends Answers
Fruit: Raspberry
Drink Color: Magenta
Straw: Light purple or red
Name: Raspberry Delight
Hair Color and Style:
Eye and Skin: Dark skin, though just tanned a bit. Soft brown or deep purple eyes.
Make Up:
Outfit: