I found this adorable game tonight :3 A link is provided if you wanna play it too. It is in no way official so please do not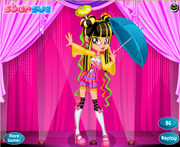 confuse it as such. If you like Novi Stars, monster high, or Bratzillaz they also have games for them too!
I warn you though, this game isn't designed as well as the others normally are.
She can hold Dee's purse, have Kabuki Cutie/Normal Tylie/Sloane hairstyle, Dee's sweet design purse, and much much others XD if you play it try to upload your photo :3